Product spotlight: Posh Pile 5th Avenue compared to
a Mercedes Benz W221 (new S Class) OE Mat

Packaging Comparison:
Impactful packaging that sells itself! Parts Department packaging
| | |
| --- | --- |
| Posh Pile | OE Mat |
| | |
| | |

Studies show that over 70% of buying decisions are made in the first 30 seconds upon seeing a product.

Edge Comparison:




Posh Pile sewn edge compared to OE taped edge


Which mat looks superior to you?

5th Avenue uses only sewn edges instead of less expensive taped edges. Sewn edges give Posh Pile a more luxurious look!

Pile Thickness Comparison: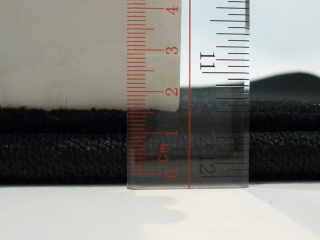 Posh Pile 5th Avenue Mercedes Benz OE mat

One common measure of car mat plushness is pile thickness. The Posh Pile 5th Avenue mat has more twice the pile thickness compared to this OE mat. In fact, 5th Avenue is the thickest mat we could find in the market.

Heel Pad Comparison:




Posh Pile 5th Avenue Mercedes Benz OE mat

This OE mat has no heel pad. This can lead to high wear and short mat life. We feel strongly about using the very strongest heel pad material to protect your Posh Pile investment.

Backing Comparison:




Posh Pile 5th Avenue mats use expensive TPR rubber backing instead of OE foam backing. This makes 5th Avenue mats a more supple form - fitting, and longer lasting mat. The backing is literally 'the back bone' of the mat. A better backing makes for a far longer lasting, better wearing, and fitting mat. The rubber in the Posh Pile mat backing acts as a moisture barrier protecting your carpets from rain, snow or spills. Also the Posh Pile mats rubber spikes will keep the mat where it is put!

Price Comparison:
Posh Pile

Direct Fit Mat

OE Mat

Retail Price
(at an auto
accessory shop)

$126

$160

Official Dealer
Quotation

$219

Warren Buffet said "Price is what you pay, value is what you get."

Which mat delivers more value for your money?